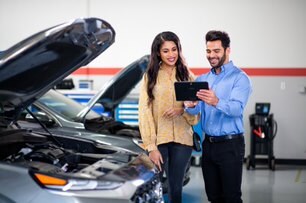 When it comes to car repair in Baltimore, you can't beat the team at Heritage | MileOne Autogroup. Our job doesn't end the day we send you home in a new or pre-owned car, truck, or SUV.

We are also there for all your vehicle service and repair needs. That's why we're sharing all you need to know about vehicle service and repairs, so you can bring your car in for the care it deserves every time.
4 Signs of Car Trouble
Routine service and care
can help to keep your vehicle running right, but vehicle may still need repairs from time to time. When you know what signs to look out for, you'll be able to get those repairs earlier and get back out on the road. Here are just a few indications your vehicle needs auto repairs:
The Check Engine Light Comes On: There are many reasons the check engine light might come on, from a loose gas cap to an oil leak. It's a good idea to get your vehicle inspected right away, so the issue can be resolved as quickly as possible.
You Hear Grinding or Squealing: Grinding and squealing can occur when your brake pads begin to wear down, and they should be addressed right away. Strange noises may also be an indication that your oil is low or that you have a leak, and that parts are beginning to grind together in the engine.
You Smell Sulfur: Sulfur is most recognized by the scent of rotten eggs. It's usually a good indication that your battery is corroding and needs to be replaced right away.
The Exhaust is Thick and Dark: Thick, dark exhaust, or an excess of exhaust, may be an indication that your oil is dirty and needs to be changed. There are many reasons that exhaust may be produced in excess, so it's a good idea to schedule an inspection as soon as possible.
Schedule Service Today!
Get the car care and support you need at Heritage | MileOne Autogroup today.