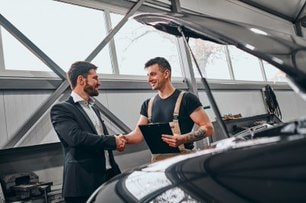 When the time comes for car service you can rely on, turn to the team at Heritage | MileOne Autogroup. We're dedicated to matching you with the perfect vehicle for all your driving needs, and to ensuring it rides safely and smoothly for a long time to come.
Scheduling regular car service may feel like just another thing to remember, but the truth is that there are many benefits to car maintenance, like increased vehicle efficiency and improved ride comfort. Here are some of the basic service tasks you'll want to remember:
Filter Changes: Oil changes are important, but they're not the only filters that need to be changed. The filters in your vehicle work to protect the engine from the dirt and debris that kicks up from the road. They'll need to be changed regularly, to ensure they can do the job right.
Hose and Belt Inspections: Your vehicle depends on functioning hoses and belts to run. But they can wear down over time, especially in extreme temperatures. It's a good idea to get them inspected regularly, and replaced, as needed.
Brake Pad Replacements: The brake pads in your vehicle should be replaced every 30,000-70,000 miles, depending on your vehicle and driving style. If you notice grinding or squealing when you brake or your vehicle has a longer stopping distance than normal, it may be time for new brake pads.
Tire Rotations: Tire rotations ensure all the tires on your vehicle wear down at an even rate, which is essential for the health of your alignment. Schedule tire rotations around every 7,500 miles.
Heritage | MileOne Autogroup is the place to go for car service you can trust. Keep your vehicle running right with the support of our expert service team.